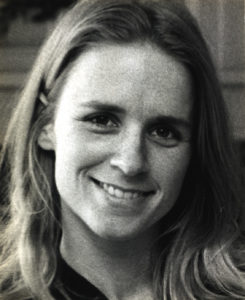 Stephanie Gail Lavender Parke
Carrie  speaks for Chief
Carrie's Speech at Chester County Peace Movement's Vigil for Chief
Saturday, December 1, 2007
I'm Carrie Lavender, Gail's daughter, and what a great privilege… She is a bright light who lived for peace and left in peace.
We're handing out 2 flyers today:
–one has her biography of all the great humanitarian causes to which she devoted her life
–the other has tributes written by people from both groups here today
We called my mom the Chief. One of her major goals was to educate the public about war profiteering and propaganda, to save the lives of our troops and all people, and to prevent unnecessary international conflicts and misunderstandings. She was a great educator and had a gift for discerning Truth and uncovering lies, so we plan to make a website in her name with links to her favorite independent media to carry on her legacy as a peace and human rights educator.
The Chief was concerned by the recent polarization of the Chester County Peace Movement and the Chester County Victory Movement. Even in her last conversations with me, she expressed her great hope that these groups would seek a peaceful approach to dialogue, to find common ground, and come to listen to, learn from, understand and respect one another.
Chief and I discussed this at length on various occasions. She was passionate about this issue.
Our family is touched by the words of appreciation expressed by members of both groups. Rich Davis, the leader of the CCVM, wrote, "She was one of God's angels here on earth." Barbara Cunningham, also of the CCVM, wrote that Chief was The Peace Maker, a Ray of Sunshine, and Barbara also wrote; "maybe, just maybe, we can learn to treat each other with mutual respect as adversaries and learn to co-exist on the corner. I believe in my heart that GOD has brought us all together for some purpose and maybe Gail was the key. She truly was a wonderful woman."
Barbara wasn't able to make it today b/c she is with the Patriot Guards supporting the family of a marine who just died.
Chief and I both believe that the Powers That Be aim to polarize this nation, and Chief and I saw that that's what's happening here, but we also saw that this weekly gathering has the magnificent potential to set a precedent for the nation, for all of us to search inside, challenge ourselves, to seek truth, understanding, and respect. If you're here — she and I believed that the people here are ready for that challenge.
I live 2 hours away so I come rarely to the vigils. Chief was the bridge between the two groups. This came naturally to her because she spent her life working for civil rights, human rights, equality for all people. I hope my mother's vision will be realized. Let's leave the discord of conflict energy behind, and find in our hearts a new approach. We are all ONE. We must be the change we wish to see in the world. The most powerful creative force in the universe is Love. The second is fear. Let's endeavor to create from Love.
This was my mother's vision (message) for you.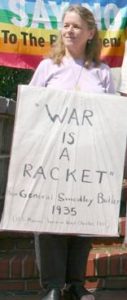 IN MEMORIAM GAIL "CHIEF" PARKE