THEFT OF WAR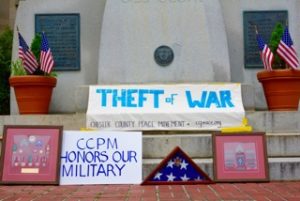 Fund Education / Not War!
   Saturday, August 19, 2017  11:00 a.m. – 12:00 noon  
High and Market Streets, West Chester, Pa.
COLLECTED SCHOOL SUPPLIES FOR LOCAL FAMILIES
Sponsored by the Chester County Peace Movement ccpeace.com
CCPM demonstrated on Saturday, August 19 from 11:00 a.m. – 12:00 noon at the court house in downtown West Chester (Market & High Streets) as we held another "Theft of War" protest while collecting school supplies (pens, pencils, markers, crayons, notebooks, paper, etc.) to be distributed to families in need among the West Chester community.
The administration's budget seeks to slash spending on the Education Department by $9.2 billion, or 13.5 percent, cutting significant programs designed to help lower-income students, while seeking a $54 billion increase in military spending!
Folks came out with signs to protest the federal government's $54 billion increase for military spending!
& brought your donated school supplies!
Import Peace / No Education Cuts!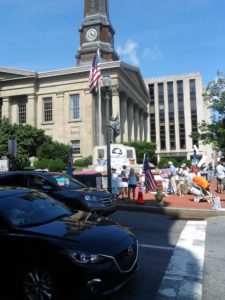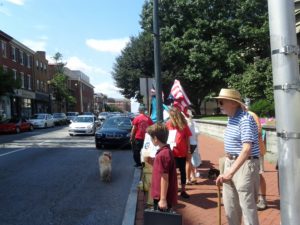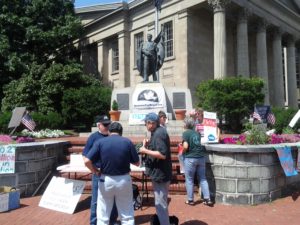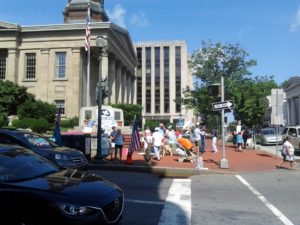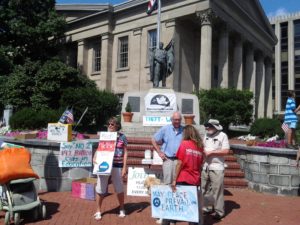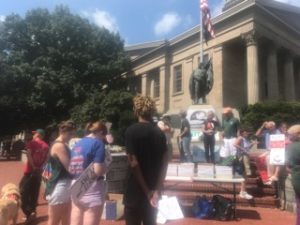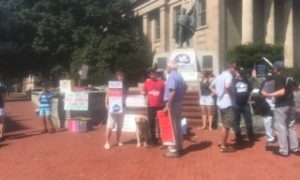 "Every GUN that is made, every WARSHIP launched,
every ROCKET fired signifies, in the final sense,
a theft from those who HUNGER, and are not fed,
those who are COLD and not clothed."
                                                         Dwight D. Eisenhower
Mission
The Chester County Peace Movement (CCPM) is a coalition of people working toward a peaceful and just world by promoting peace and justice internationally, nationally, and locally; bearing witness for peace and justice; educating and informing the public about peace and justice issues and events; and supporting the welfare and dignity of military personnel and their families.
Chester County Peace Movement
Donate/Contact
PO Box 803
West Chester, PA 19381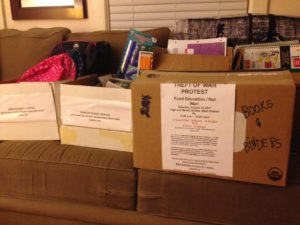 BOXES OF SCHOOL SUPPLIES WERE COLLECTED AT THE DEMONSTRATION AND DELIVERED TO THE COATESVILLE YOUTH INITIATIVE.