"Theft of War" Protest
WHEN:     Saturday, May 27 – 2017

WHERE:     Court House, downtown West Chester

(corner of High & Market Streets)

TIME: 11:00 a.m. – 12:00 noon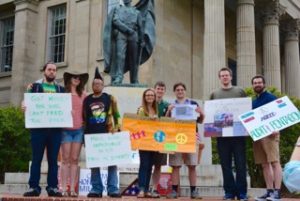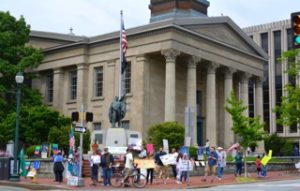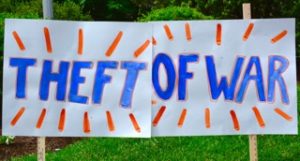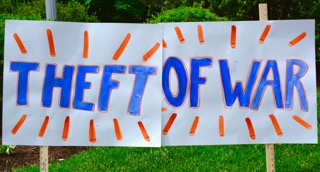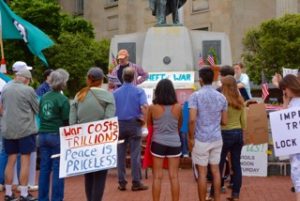 We came out with our signs to protest the federal government's
$54 billion increase for military spending with cuts to domestic spending!

Here are 8 things we could do with $54 billion instead:
Cover 12 million people under the Affordable Care Act .
Resettle 2.7 million refugees in the U.S. – enough for 32 years' worth under the stepped-up Obama resettlement rate.
Create nearly one million infrastructure jobs. Good Paying JOBS!!JOBS!!JOBS!!
Pay the salaries for half the elementary school teachers in the United States.
Send 1.6 million students to college for a four-year degree – for free.
Insure 15 million adults through Medicaid.
Fund Meals on Wheels (threatened with cuts in Trump's budget) for 7,180 years.
Fund the entire Environmental Protection Agency (at current levels) for 6.6 years.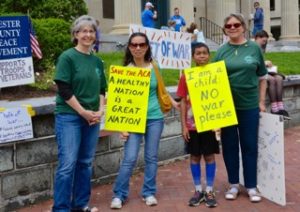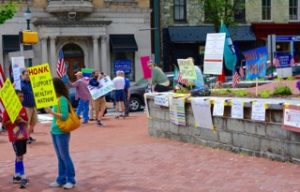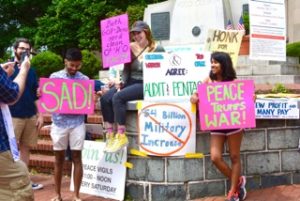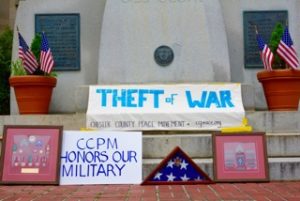 The CCPM came out on May 27th with signs stating what $54 billion could do instead of feeding the military budget!
"Every GUN that is made, every WARSHIP launched,every ROCKET fired signifies, in the final sense,
a theft from those who HUNGER, and are not fed,those who are COLD and not clothed."
                                                 Dwight D. Eisenhower